POMONA, CA (Nov. 11, 2022) – For the second time during the Countdown, Top Fuel point leader Brittany Force reset the NHRA national speed record Friday and, in the process, claimed the provisional No. 1 qualifying position for herself and her Flav-R-Pac / Monster Energy team at the season-ending 57th Auto Club Finals at Auto Club Raceway.  John Force and Robert Hight were fourth and fifth quickest on the first day in their Chevrolet Camaro SS Funny Cars and Austin Prock was sixth in Top Fuel in his Montana Brand / Rocky Mountain Twist dragster.
Brittany grabbed six of a maximum eight qualifying bonus points on the first day, thereby extending her lead ever so slightly over Justin Ashley. After a solid 3.742 in the first session, Brittany drove the David Grubnic and Mac Savage-tuned dragster through the 1,000 foot timers in 3.641 seconds and a finish line speed of 338.44 mph, bumping up ever so slightly the record of 338.43 she set last month at St. Louis.
"Setting another new speed record is pretty incredible," she said. "I'm just very proud of this Monster Energy team and what we've accomplished. We're chasing a championship that's going to lock up on Sunday and I'm excited about it. My mindset is where it's been all season long. The confidence that I have with this team. We know how to get this car down (the track). We know how to turn win lights on. I don't want to get ahead of myself, but I'm confident with these guys that we can get the job done. It's going to be fun."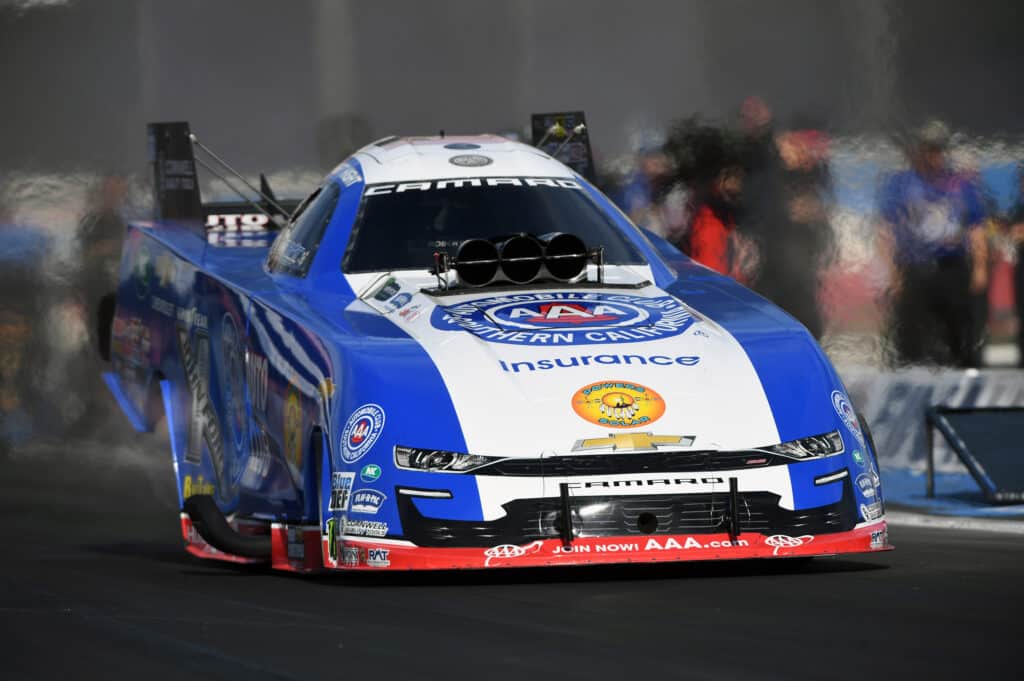 After an uncharacteristic misstep in the first qualifying session (7.538 seconds at only 85.87 mph), Robert Hight and the Auto Club of Southern California team stormed back in Q2 with a solid run of 3.866 seconds at 333.25 mph that sends them into Saturday's final two qualifying session in the No. 5 position. It was an admittedly conservative effort on the part of crew chiefs Jimmy Prock and Chris Cunningham.
"We had to get down the track (on the second run)," Hight said. "Jimmy told me it should run 3.86 and that's what it did. We knew that wouldn't stand up (for low of the session), but it gave us a place to start and it puts us in the show. It was a handful because we were driving into the sun. It was hard to see. But it was a good rebound for this Auto Club team and we're looking for more tomorrow."
John Force made two solid qualifying laps Friday in his PEAK Antifreeze and Coolant Chevy, following an opening 3.893 second effort in Q1 with a 3.864 and 333.49 in the second session.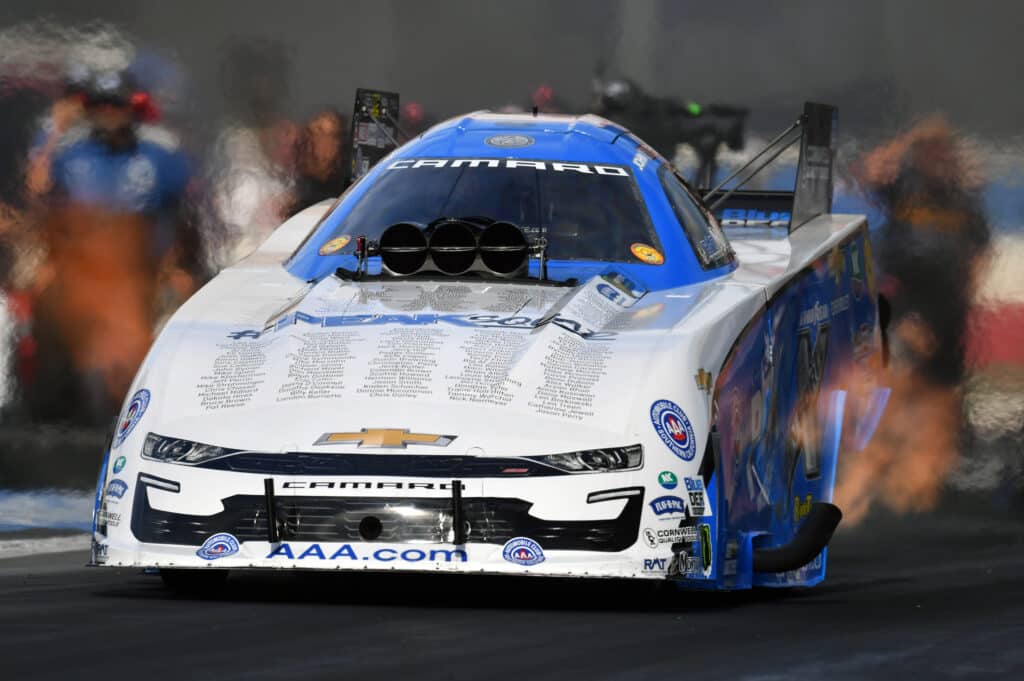 "I need a miracle to win (the championship)," acknowledged the 16-time champ who starts No. 4 in points behind Hight, Matt Hagan and Ron Capps, "but Robert and Brittany are right in it. We'll just have to see where it goes. I feel good. The car's good. I'm really excited for Brittany and that Monster / Flav-R-Pac team. Robert? They didn't get down the first run, so they had to pull it back in Q2. They'll be fine tomorrow. Today it was 70 degrees; supposed to be 66 tomorrow, so we'll see what happens. I still like driving; still love getting in the seat at 73. It's crazy, but I still love it."
In the midst of a strong Countdown performance that included a win at Reading, Pa., runner-up at Dallas and a trip to the semifinals two weeks ago at Las Vegas, Prock and the Montana Brand / RMT dragster will go into Saturday qualifying in the No. 6 position in Rahn Tobler's last weekend as crew chief with Joe Barlam. After a dismal 4.498 to start, the third generation driver laid down a 3.705 and 332.43 Friday night to put himself back in the conversation.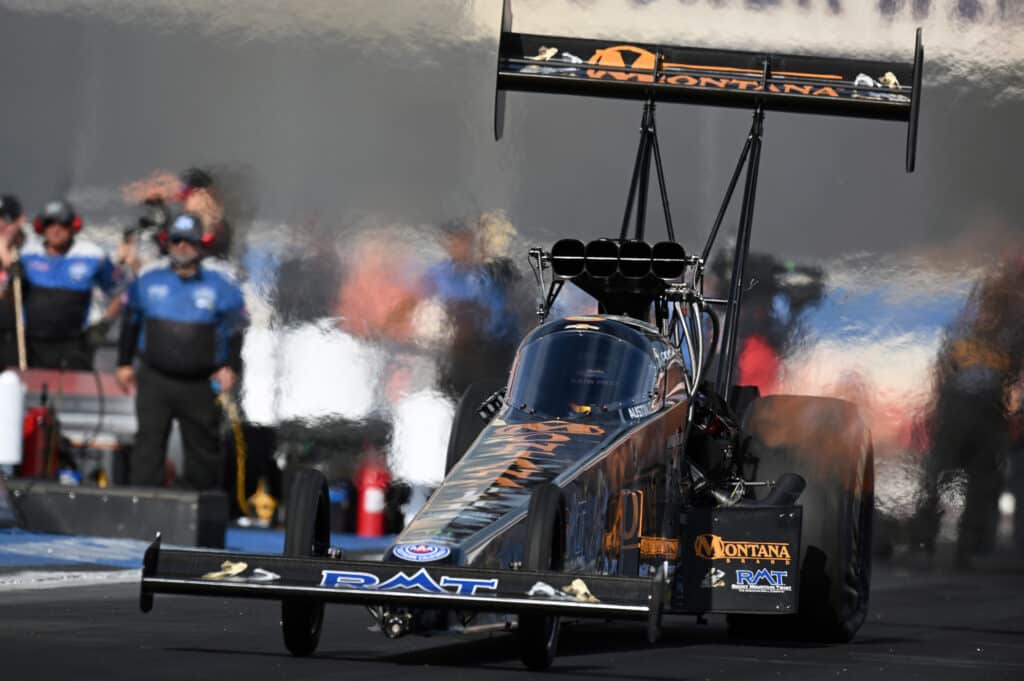 "Not the start we wanted for r this Montana Brand / Rocky Mountain Twist team," he said, "but that was a nice rebound in Q2 and we're looking for even more improvement tomorrow. Conditions should be as good as they were today."
Competition at the NHRA Auto Club Finals continues with qualifying Saturday at 12:30 and 4 p.m. Eliminations are slated to begin Sunday at 11:00 a.m. Television coverage of the event will be on FOX Sports 1 (FS1) Sunday beginning with qualifying at 11 a.m. ET and eliminations at 1 p.m. ET