LAS VEGAS (Oct. 28, 2022) – Brittany Force and Robert Hight put Flav-R-Pac / Monster Energy dragster and Automobile Club of Southern California Chevrolet Camaro SS in provisional No. 1 qualifying positions Friday at the NHRA Nevada Nationals at The Strip at Las Vegas Motor Speedway. Austin Prock has the Montana Brand / Rocky Mountain Twist dragster sitting in the No. 5 spot and John Force with PEAK Antifreeze and Coolant are No. 15.
Brittany Force and the Flav-R-Pac dragster made some ground on their points deficit Friday. Force would first take the Flav-R-Pac hot rod on a 3.711-second pass at 332.43 mph to be quickest of the session and pick up three bonus points. In the second session, the David Grubnic and Mac Savage tuned dragster would lay down an impressive 3.665-second pass at 337.24 mph, securing another three points and sitting top of the ladder.
"Today has been awesome, exactly what this Flav-R-Pac / Monster Energy team wanted to come in here and do. We need to grab points where we can. We're already starting off good this weekend with two solid runs and picking up bonus points that was our goal, so we're right on track," Force said. "Coming into The Strip at Las Vegas Motor Speedway, a track like this, you're already motivated because we've had success here in the past. We won in 2019 and in the spring this season in the four-wide. We've done really well here and that gives you confidence coming in, you've done well here before and you can do it again."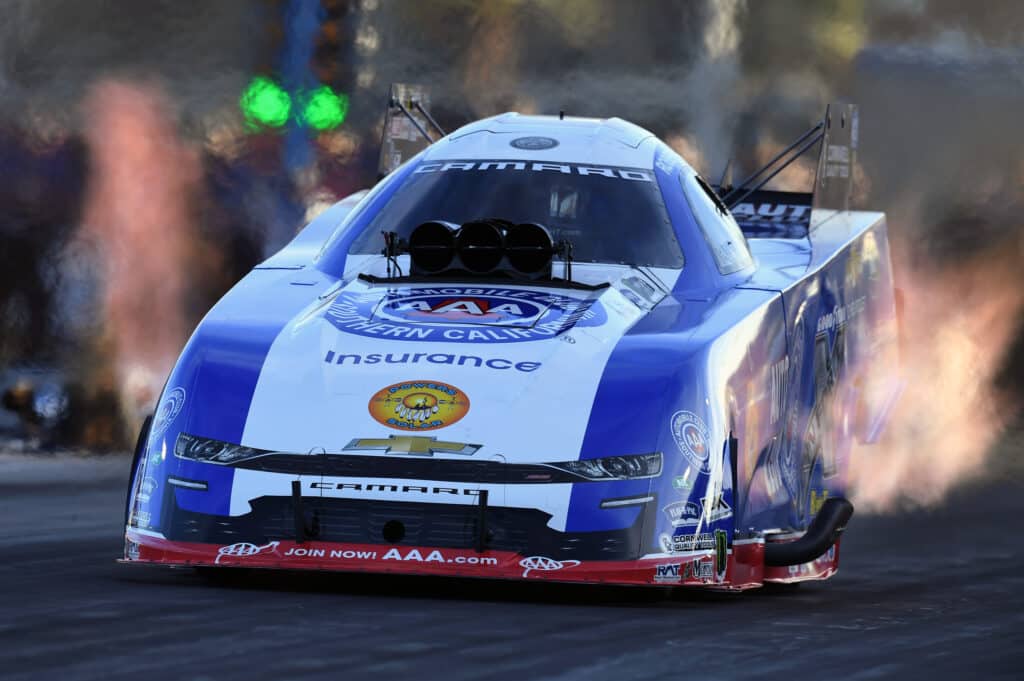 Robert Hight and the Auto Club team stayed on script going low of both qualifying sessions. On the first pass, Hight would handle the Auto Club Camaro to a 3.857-second pass at 331.77 mph. The second pass would be almost identical at 3.857-seconds and 331.45. Hight would capture six valuable bonus points for being quickest of each session.
"Those two runs, those were huge. We need every point we can get. The way I look at it, we let Ron Capps back in in Dallas, we're even, 10 points is nothing," Hight said. "Having that week off between races was brutal, but I know Jimmy Prock spent that week and a half thinking about this race car. He made some changes and I was even surprised we ran so well first session, we wanted something a little quicker that second pass but we ran 3.85-seconds two different ways. The guys have a handle on this Chevrolet. Picking up those six points today, that was big for us. We need to get six more tomorrow."
Coming off a runner-up finish in Dallas, Austin Prock and the Montana Brand, RMT dragster started qualifying with a solid 3.731-second pass at 328.30 mph that ended with an engine explosion. Prock would come back in the second session and the Montana Brand dragster would run into tires smoke for only a 5.941 pass at 118.96 mph. the 2019 Rookie of the Year would stay in the top half at No. 5.
"Good start to the weekend for this Montana Brand / Rocky Mountain Twist team. We came out of the box and made a good run," Prock said. "We pushed on the second lap, and it was a bit much. We're looking forward to two nice laps tomorrow."
John Force and the PEAK Chevy ran into tire smoke their first qualifying run to cross the finish line at 6.671-seconds and only 107.04 mph. In the second session, the PEAK Camaro made it a little further down track before heading into tire smoke for a 4.589 at 178.35.
"Little bit of a rough start to the weekend, but it's okay, we'll be oaky," Force said. "This PEAK Chevrolet, it's been consistent and fast, we just need to find it again this weekend and we will. We have two more tomorrow to get it together, and we will. We're all chasing Robert up there. He's running good and Brittany
Competition at the NHRA Nevada Nationals continues with qualifying Saturday at 1:00 and 4:30 p.m. Eliminations are slated to begin Sunday at 11:00 a.m. Television coverage of the event will be on FOX Sports 1 (FS1) on Sunday beginning with qualifying at 2:00 p.m. ET and eliminations at 4 p.m. ET